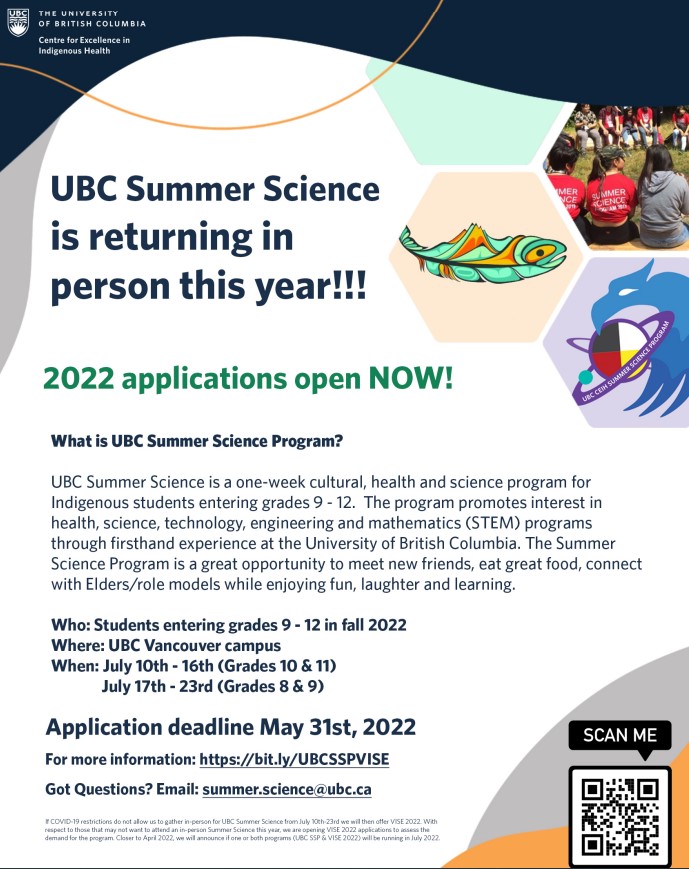 Hello,
The UBC Summer Science Program is back! We have extended our deadline to apply to May 31st at 11:59PM!
SSP is an exciting opportunity for Indigenous students entering grades 9 to 12. It offers culturally relevant and holistic learning, and promotes the pursuit of post-secondary education particularly in the science and health fields. 
Students in past years have explored subjects like biology, engineering, and health sciences facilitated by various UBC faculty members and students, and primarily from Indigenous perspectives. SSP also hosts workshops on UBC campus and across Vancouver, including the UBC Farm, Jericho beach, and the Vancouver Aquarium! An important component of SSP is the daily teachings offered by Elders involved in the program, as well as other Indigenous facilitators leading cultural activities.
The program length is one week with a one-time fee of $200. With that, the SSP staff will cover the student's travel, accommodation, and meals! SSP will host grades 11 and 12 from July 10th to 16th, and grades 9 and 10 from July 17th to 23rd. 
Anyone interested is strongly encouraged to visit our website, or email summer.science@ubc.ca for more information! 
Apply here: https://health.aboriginal.ubc.ca/programming/summer-science/summer-science-application/
Sechanalyagh/Thank you,
Olivia
UBC Summer Science Program Assistant
Faculty of Medicine | Centre for Excellence in Indigenous Health
University of British Columbia | Vancouver Campus
2206 East Mall  |  Musqueam Territory  |  Vancouver, BC Canada, V6T 1Z9
T: 604 827 1444 | E:  summer.science@ubc.ca