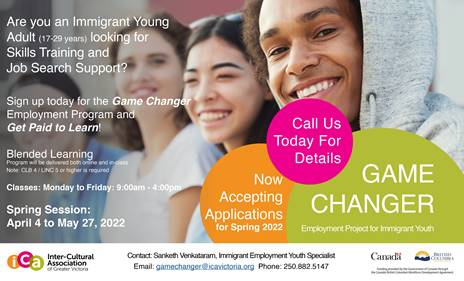 The Game Changer Program (Spring Session) is back!                                                                               
Our 10th session will run on April 4th to May 27th, 2022.
Employment Project for Immigrant Youth program
Eligible Participant:
•            Immigrant Young Adult ages 17-29 residing in British Columbia
(Permanent Resident, Naturalized Citizen, or Protected Person legally entitled to work in Canada)
•            Is not attending school full-time
•            Is currently unemployed or precariously employed
•            Meets minimum English language proficiency requirement (CLB level 5)
What does the Game Changer program offer?
•  8 weeks of Virtual Employability Skills Training (Program will be delivered virtually until further notice)
•  Essential skills
•  Soft skills  
•  Job search skills
•  Labor market information
•  Networking & self-marketing skills
•  Job maintenance skills and more
•  Paid full-time training
•  Classes: Monday to Friday 9am – 4pm
•  Living allowance of $15.20/hour
•  Short-term certificates (Food Safe, First Aid, WHMIS, etc.)
•  Individualized occupational skills training
•  Direct connection with local employers
•  Paid work experience upon completion of training
•  Post Job placement support and mentorship
How to Register:
Contact: Sanketh Venkataram (C: 250-882-5147) or
Email : gamechanger@icavictoria.org