Have you considered a career in broadcasting on radio or television?  Be on the Air in less than a year!  
Saskatoon-based  Western Academy Broadcasting College offers an accelerated program of 2 years' worth of training in one year! 
Learn through one-on-one tutoring and hands-on experience in real Radio and Television studios.  Our results boast a job placement rate of higher than 95%!  Best of all,  WABC works with students until they get hired.  
Get more information at wabcwesternacademy.com or visit your school Career Centre.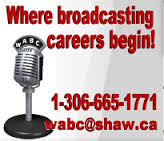 *Putting broadcasters on-the-air for over 30 years!