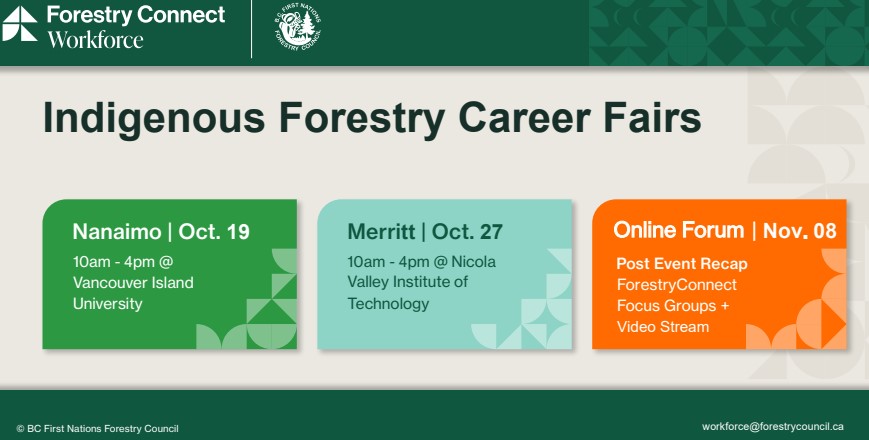 The BC First Nations Forestry Council will once again be hosting our in person Indigenous Forestry Career Fairs.
The events are catered so food will be provided, and exhibitor presentations will be held on the mainstage throughout the day showcasing different types of careers and opportunities for attendees. We will have frequent door prize draws and giveaways as well as a grand prize for one lucky winner at each event.
The Nanaimo event will also have the heavy equipment simulators on site so students can have a turn trying them out.
Everyone is welcome; however, our programs are primarily for Indigenous (First Nation, Inuit and Metis) youth (grade 11-12) and jobseekers.
Individual student registrations will be open 2 weeks prior to the event so students can register individually to reserve their swag bag, food ticket and draw entries.

We are looking forward to seeing you at this great event!
Thank you so much for your support.
Denise Gallant (She/Her)

Forestry Workforce Advisor

Cell: +1 778-953-3408

t: +1 604-971-3448 (ext. 4632)

 

BC First Nations Forestry Council | www.forestrycouncil.ca

669 Centre Street, Nanaimo, BC V9R 4Z5