This post is for Pre-Registration! This information will be posted again closer to Nov 10.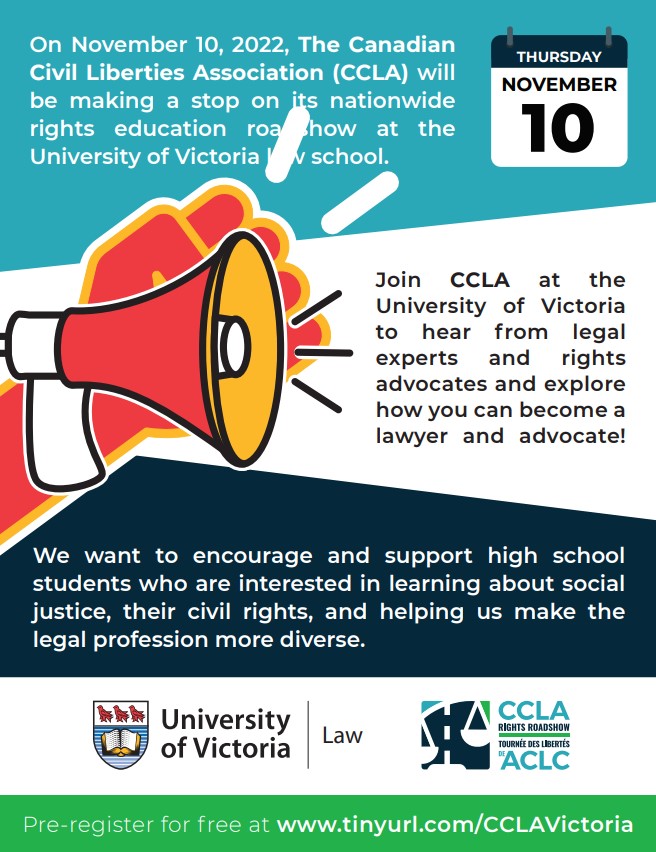 On November 10, 2022, the Canadian Civil Liberties Association (CCLA) will be making a stop on its nationwide rights education roadshow at the University of Victoria law school in the hopes of encouraging high school students who can bring more diversity to the legal profession to consider pursuing higher education and a career in law.

At this event, students will have a chance to critically examine important rights issues from multiple perspectives as they engage directly with legal and Charter experts who are working to make positive social change and challenging systemic barriers across the country.
The event is open to all high school students but organizers highly encourage racialized students to attend and lend their voice to the conversation.
If you have students interested in attending and learning more about this exciting event, please ask them to pre-register online so they receive updates and information on how to register closer to the event date.   I have attached a poster which can be shared with teachers, students and parents.
Cheers,
Stephanie
Book an appointment with me  |  Register for an event